Dear Thanksgiving
you were fabulous this year, I thoroughly enjoyed you. Especially since it was Husband's first Thanksgiving with us in our 3 year marriage. You were one of the best we've had.
Dear Ham & Beans
I'm so glad we had the left over ham bone and I made the choice to run to the store to get the beans you are now mixing with butter, bacon grease, onion, and garlic you will cook all day and continue to smell delicious and just make me feel warm and cozy.
Dear Weather
thank you for being chilly today. Seriously, awesome.
Dear Husband
I was super excited to get a 4 day weekend with you since you've been working
*praise the Lord*
I've missed you so much! But I am super proud of you for volunteering to work today.
Dear Pumpkin Cookies
I'm going to put cream cheese frosting on you and maybe some cinnamon and then let everyone enjoy!
Dear Fall/Autumn Decorations
I cannot decide if I should put you away today...I am so very tempted. I may not pull out Christmas stuff but I'd really like to...well see how the day goes.
Dear Grandpa
I am so happy you got to eat some broth today and the tube came out! You're getting better every day :D Dear Camera/New tripod this was kind of a last minute thing taking a family picture, the lighting was bad, I hadn't even taken Tripod out of his box yet
*yeah it's a he*
, everyone had just eaten and we weren't looking out best I only snapped two pictures but I'm really happy with how they turned out...good job camera and tripod :)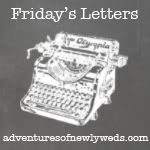 Linking up with adventures of newlyweds for Friday's letters!