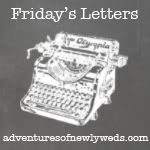 today I'm linking up with Ashley at Adventures of Newlyweds for Friday's Letters!
Dear Grandpa
I'm so glad you're doing better! They're just checking a couple more things and tomorrow if things are looking the same you'll be coming home soon and
without
surgery!
Dear Husband
I love you working, you are SO happy. It's really awesome. I totally miss you, but it's amazing seeing you like this. Love it.
Dear Blackwell family
thank you for hiring my husband. Words cannot express how grateful and thankful we are.
Dear Daddy
I've had lots of hanging just having some one on one time with you the last few days. Even when your hip hurts and my feet are swollen, I will forever be daddy's girl.
Dear Boppy Pregnancy Pillow
I am sorry for not ordering you earlier and ever doubting your effectiveness you have changed my life for the better...please forgive me and never ever leave me, if we have to we can kick husband out.
Dear Thanksgiving
you are creeping up on us and you need to stop and not be here for a couple more days...please...seriously...please.
Dear Pregnancy
yay for not gaining to much weight and measuring where you should we're doing good! I didn't like the flu shot but that's ok it's for the baby...though I am a little nervous about the whooping cough one I heard it hurts!
Dear God
Thank you for providing work for my husband in the most unlikely of places, thank you for holding our family together, keeping your angels around my grandfather, and for all the new little lives you are blessing our family with.