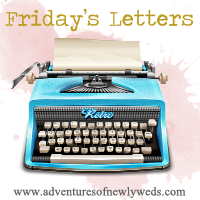 Dear Ashley
from
Adventures of Newlyweds
this is my first time linking up for Friday's letters and only my second time linking up to anything! I really love Friday's letters and your blog in general it's wonderful.
Dear Husband
I love you sooo much thank you for being the best daddy and husband already. I'm so excited that our changing table is almost done getting sanded and after that it's staining time! You are amazing for working your butt off on it in this horrible heat.
Dear Squirrels
I am super fond of you for filling up the old bird house with the santa on it, it is totally putting me in the fall mood! I mean really?! Those acorns in there just make me smile.
Dear Waitress
thank you so much for bringing the husband ice cream for his early birthday it was so sweet and cool he loved it!
Dear Northern CA weather
thank you so much for finally dropping out of the 100's! Please continue to cool down the closer we get to the official first day of fall!