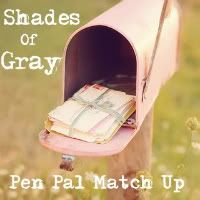 So I am SUPER late with this! But better late than never right? Or even Fashionably Late? Take your pick! About a month ago I was over at Amira's blog
Shades of Gray
*which is amazing and adorable and any other complimentary words you can think of!* and she was having a penpal match up! I love writing, I love making friends, but since I don't have facebook, and live in the middle of nowhere...well a penpal just sounded awesome!
And what do you know...I got an awesome penpal! Her name is Elizabeth, and she is simply Lovely! A navy wife with a hilarious blog! How could I resist? I am emberassed to admit how bad I've been about writing her but we've both sent at least one thing! Better than nothing? I think so, and besides it's quality not quantity. I just wanted to do my first 'follow up' post and tell Amira what an awesome idea, and tell Elizabeth how glad I am to be her penpal and hope that we can get to know each other a lot better! So far I've only been able to send letters but am working on a little package for her *Elizabeth if you're reading this forget that you read that* but she is super awesome and creative and giving and just all around thoughtful! And she sent me this...
Some awesome candy! *not much left my husband has been bogarting it*, two amazingly scented body cleansers, and a sweet letter on the prettiest paper! Even the package she sent all this is was cute...*in case you were wondering I pretty much felt like the worst person ever for only sending a letter and not even on pretty paper!*
♥...Because she does. Click either of the above links and see for yourself...♥
♥...And of course don't forget to check out Amira's blog for a little everyday piece of Wonderful!...♥
So to sum it all up Elizabeth, Thank you! And I promise to be a better penpal, I also hope that we can really get to know each other and become better friends I could really use a friend and you seem like such an awesome person!
And Amira thank you for having such a great idea and having such a sweet blog!